Univision Now on Firestick-How to Get, Download And Install
Univision Now is one of the popular live tv streaming apps available for various devices. Since the app is available on the Amazon store, users don't have to go through any extra hassle to get it. There is a set way to download and install Univision now on fire tv very easily.
Do you prefer to receive entertainment content in Spanish? If the answer is yes then Univision is a great channel for you to enjoy your favorite content. There are many devices that are compatible with Univision NOW and Firestick is one of them. In today's article, I will discuss in detail Univision Now on Firestick.
Before using this free television channel on the desired device one must go through a prescribed process and get enough knowledge about it. If you are a new user of Univision then you can use it for free for 7 days through the free trial. This facility is available to all new users.
People are still using the Univision Now app on several platforms like Android tv, Apple tv, and Roku tv. It is also easily available on Firestick. Therefore each section of this article is arranged for Firestick users who are thinking of getting the Univision Now app on Firestick. However, continue to the further sections.
About Univision Now App
Just a few years ago the app was launched by TelevisaUnivision Interactive, Inc. By this, date was 2015-11-18, but this app has gained considerable popularity in this short period of time and still maintains its popularity among entertainment lovers. It currently has 1000+ channels where people can access news, sports, and entertainment content in Spanish. But those who want to enjoy the content in the English language can adapt the app to English or their desired language. This is one of the advantages.
As mentioned earlier Univision Now is one of the tv channels available for US users. It includes entertainment content in different categories and all in Spanish. You can even find popular Spanish shows like La Rosa de Guadalupe, Primer Impacto, and so on here. Since it is only available in the US, users outside of it can access it with a VPN.
It is compatible with various devices. Although Univision isn't free, you still have the option of live streaming for Univision on Firestick free with your cable TV provider.
Is Univision Now on Firestick?
Amazon has already announced that Firestick now supports Univision. So you can definitely use Univision now on fire tv. Previously, networks that broadcast content in Spanish were only available on OTT platforms. But with the passage of time, people's needs are prioritized and this wonderful app can be enjoyed on platforms like Firestick as well.

How to Get Univision on Firestick?
Getting Univision now on amazon fire stick is easy because the app is already available on Amazon. So just go to Amazon and you will get it. For the Univision app fire tv, access Amazon from your preferred browser and search for Univision Now. Let the app download and install as soon as it shows up in the search list. Use after activating it.
See More: Hgtv on Firestick
How to Download & Install Univision Now on Firestick?
So how do you download and install Univision now Firestick? If you still don't know the process then this section is very important for you because here is a simple process with few steps. So, apply the process without missing any step.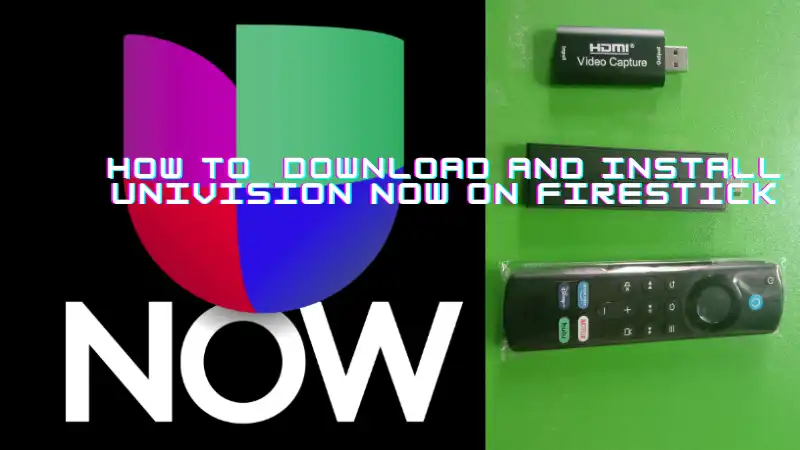 To get the Univision app Firestick first, you need to turn on your Firestick and make sure you have a stable internet connection.
Click on the search bar from the home screen and search by typing Univision Now.
Select the app from the displayed results and click the Get button.
Now the Univision app on Firestick will start installing, wait for some time.
You will then see a message asking you to launch the Univision app on the Firestick.
Click the Open button to start it.
Now you can enjoy Univision now for Firestick.
How to Watch Univision on Firestick?
After installing the Univision app for Firestick, you may have a question about how to watch it. Those who are Firestick users often want to watch the app without cable. Watching Univision on Firestick without cable requires a subscription since there are three plans available. Once the subscription is taken, follow the steps below.
First, turn on your Firestick and go to its home screen.
Now go to the settings option and from there select and click on apps.
Here you will see your downloaded apps from there search for Univision Now.
Just find it and click on it.
Log in to the account if it is not logged in.
After launching, go to the category of content you are looking for and access your desired content.
Since Univision offers access to content in English, switch to English if you are not familiar with Spanish.
Now start enjoying the content.
Note that you must make sure you have an account with Univision Tv before you can watch it. Don't try to login in vain if there is no account. First, complete the signup then proceed to the viewing process. But as long as you are in the free trial, there is no problem even if you don't have an account.
Final Thoughts
Univision tv also offers a lot of convenient features for users. Univision Now tv has remained equally popular since its launch, even adding new features with each update.  This Spanish language-based live tv streaming platform is mastered by many Firestick users and they are using Univision Now on Firestick comfortably. As a new user you probably already know how to get it.
Above we have discussed a lot about the Firestick Univision app. Users often ask various questions, that's why this article covers almost all information about Univision now fire tv. Hopefully, you now know how to use the app on Firestick like Apple tv or Roku tv. If you still have any questions, feel free to leave a comment.