Complete FireStick Beginners Guide 2023 [Step By Step]
Do you prefer to stream on your phone or computer and watch it on your tv? So there are several smart tv options for you, but if you want to convert your existing tv into a smart tv then firestick can be a good option. However, as a beginner, you probably have a lot of questions in this regard. Today's FireStick beginners guide article will surely be useful for you.
Existing users of Firestick are already satisfied with it but newbies may not know what firestick is. Before becoming a user one must have a complete understanding of it as there are several types of firestick that offer different benefits and features. Well, without further ado because the following sections are going to discuss some things that you must know.
What is a FireStick?
Amazon Fire TV Stick is what people call Fire Stick. It is basically a streaming device that has emerged from Amazon. Firestick generally looks like a small device that is quite portable. By connecting the Firestick to the HDMI port of your home TV, you can enjoy various streaming services and even access various apps on your TV.
Firestick is one such platform where you can stream your favorite content from popular services. You must have a good speed active wifi connection to use the device. Moreover it offers a user-friendly interface to navigate through various apps and content.
Do you think firestick only offers streaming service? No, it also supports Amazon's other features like voice search by the virtual assistant Alexa. The specialty of this feature is that users can perform many functions including searching for content, launching apps, controlling playback through remote control or voice commands.
Which FireStick Model Should I Choose?
Amazon Fire Stick offers different models. So definitely consider your needs before choosing one. In this case, it is necessary to have an idea about the different models in advance, then it will be easy to choose the one that meets your needs.
Fire TV Stick 4K Max is among the most popular models of Firestick and is considered by many as the best model. So if you expect advanced features and benefits then you should choose this model. Fire TV Stick 4K Max launches applications quickly because it has a powerful processor. So, there is no better option for fast streaming.
However, other models of firestick also offer quite useful features. So, you should first have a little idea about each and then decide on one, it will be easier to get your desired device.
(2021) Fire TV Stick 4K Max
Fire TV Stick 4K offers a better streaming experience and supports 4K Ultra HD quality. It is made to send 4K compatible televisions high-quality video and audio content.
The Fire TV Stick 4K can stream content in 4K resolution, offering sharper and more detailed visuals. It also supports High Dynamic Range content, which enhances contrast and color accuracy for a more vibrant and lifelike viewing experience.
Also it can deliver immersive, three-dimensional audio with Dolby Atmos support when used with appropriate media and audio setups. This makes for a more compelling and realistic audio experience. Additionally, it has an effective quad-core processor and 8 GB of storage, enabling quick and fast app and content navigation.
See More: How to Use Firestick- Beginner's Guide to Step by Step
(2018) Fire TV Stick 4K
The Amazon Fire TV Stick 4K model was released in 2018 and is still in the market today. Although the Max is a nice upgraded option compared to it, the Fire TV Stick 4K is still considered a good choice for users. This could be an ideal option especially for those who don't want to pay for Wi-Fi 6.
Apps, games and various responses on the device are quite fast but not like 4K Max. However, the news will surely make you happy that Fire TV Stick 4K and 4K Max are priced very close, so if you want to upgrade it can be a good decision since the cost difference is not too much.
(2020) Fire TV Stick (HD 3rd gen)
If you are searching for the best among the entry level fire stick models then Fire TV Stick (HD 3rd gen) might be the ideal choice for you. This model of Firestick is fast enough and users can adapt to it very easily. You will be able to stream up to 60fps in Full HD with it.
There is also good news for those who have HDR TVs as Firestick supports HDR, HDR10, HDR10+ and HLG formats. They have Dolby Atmos and Dolby Digital for audio formats. However, the 3rd gen is adequate for the entry level but it is not as upgraded as the Fire TV Stick 4K or Max.
(2020) Fire TV Stick Lite
You may be wondering how the Fire TV Stick Lite is different. If you compare with the primary versions of firestick, the difference is not much. It also supports HDR format with 60fps 1080p streaming like the previous model. But it has a big difference with other models which is very important for you as a user to know.
Fire TV Stick Lite has relatively less Dolby Atmos support and remote control support. Additionally, the Alexa remote doesn't work with the Fire TV Stick Lite to adjust the volume or power of your TV. So you must always have your original TV remote handy. The Fire TV Stick's remote can control the other models in this situation.
Are There any Extra Costs?
Amazon Fire stick has a purchase price but you don't have to spend any more on a monthly basis. However, in case of using various apps on this device, sometimes a paid subscription is required. But some apps you can use for free. Note that if you pay a monthly subscription, it is for the specified app and not for Amazon.
What's Inside the Box?
Do you know what is inside the fire stick box? As a user you should know this. Also from a buyer so that you can understand each part. Firestick comes with a power adapter, HDMI in the box extender cable, Fire TV Alexa Voice Remote, USB cable (for power), Micro-USB (for power only), HDMI, and AAA batteries.
How to connect a Firestick
You must follow a prescribed process to connect Firestick. Perhaps following the steps below will be sufficient for you.
First, connect one end of the USB cable that came with the firestick to the Fire TV Stick and the other end to the power adapter.
Now plug your Fire TV Stick into the HDMI port and connect the power adapter to a nearby electrical socket.
Turn on your TV and select an appropriate HDMI input.
Then turn on the Alexa Voice Remote and open the back and insert the battery. Now complete the on-screen setup with the remote, such as selecting the language, and choosing the desired network.
Include an HDMI extender as it will improve the performance of your remote and Wi-Fi.
Now your Fire TV Stick is connected.
How to Set Up a Fire Stick?
You must know the login details to set up your Fire TV Stick. Also following steps will make this setup process easier.
First, connect your firestick to the TV, power adapter and navigate to the appropriate HDMI port with the remote.
Then place the battery in the remote correctly and hold the remote within 15 feet of your TV.
Now press the home button on the remote for 10 seconds until the firestick finds it.
You will see it on the TV remote when the Firestick finds it.
Then you set your desired language from the remote.
Now you have to set the network and for that you have to navigate to the left and select wifi.
You will be prompted for a password to connect to the network. Don't forget to save the wifi password.
Then you have to register on Firestick, if already registered then select I already have an Amazon account option.
If you want to give any restriction from children then you can set parental control but it is optional.
Complete setup of Amazon Fire TV Stick to control TV volume.
Finally, select your desired streaming service.
Navigating the Fire Stick and Remote Buttons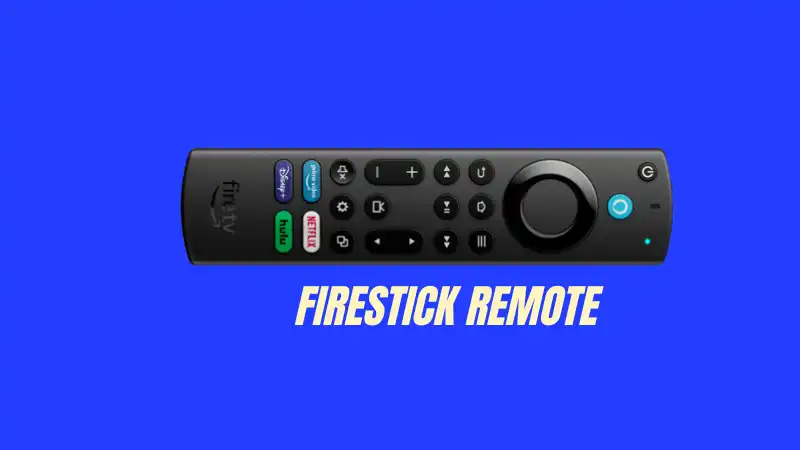 Follow the rules below to navigate Firestick and remote buttons.
Press the button marked Home to go to the Home screen.
If you want to go to the previous screen, press the back button.
The round button in the middle of the remote is the select button that lets you choose a movie, TV show, game, or app.
To wake up your Amazon Fire TV Stick press any button you like.
Choose the sleep option from remote settings to put your device in sleep mode.
To access the movies, TV shows, games, and apps you've already purchased, go to the main menu and select from there.
If you want to remove any content, select the Remove from Recent option from the Recent carousel, of course define the content first.
Finally, you can unplug the power cord to turn off the Firestick device or put it into sleep mode.
Downloading Apps
The first step to download apps on Amazon Firestick is to select the search option on the home screen using the remote and type the app you want to get using the on screen keyboard.
Apart from this you can perform the search process through voice.
Now after searching select your desired app from the displayed results and go to its overview page to see its details.
Complete one click payment for the app that needs to be purchased. Once the payment is done the app will start downloading automatically.
However, you can find the app you downloaded or purchased in the Games Library or the Apps Library.
Sideloading Apps
You should adhere to these general guidelines to sideload programs onto a Firestick:
First, enable Apps from Unknown Sources
Then, install a File Manager
Download APK File
Now, install the App
Finally, launch the App
Advanced Features
The Amazon Fire TV Stick has a number of cutting-edge capabilities that improve streaming. Here are a few of its standout features:
The Fire TV Stick comes with a voice remote that enables you to control your device using voice commands.
Because of its built-in Alexa capabilities, you can operate your TV with voice commands.
You may project the screen of a compatible smartphone, tablet, or computer onto your TV with the Fire TV Stick.
To guarantee that children are watching in a secure environment, you can set PINs and limit access to specific apps or content.
You may access live TV streaming services with the Fire TV Stick in addition to well-known streaming options like Netflix, Amazon Prime Video, and Hulu.
Frequently Asked Questions
Is there a monthly fee for Firestick?
You don't have to pay any monthly fees for the Amazon Fire TV Stick, just a one-time purchase.
Are there free apps for Firestick?
Yes, there are some apps that you can use on Firestick completely free. These include YouTube, Pluto TV, Tubi, Crackle, IMDb TV, and more.
Can I add Kodi to Firestick?
Yes, you can add Kodi to the Amazon Fire Tv Stick. It is a popular media center application allowing you to organize and play your own media files.
Can I get Plex on the Amazon Fire Stick?
Yes, you can get Plex on the Amazon Fire Stick to organize and stream your personal media collection to various devices.
Does the Amazon Fire TV Stick have Bluetooth?
Yes, the Amazon Fire TV Stick has Bluetooth capabilities. It supports Bluetooth connectivity, allowing you to pair it with various Bluetooth-enabled devices.
Does the Amazon Fire TV Stick have YouTube?
Yes, the Amazon Fire TV Stick does have an official YouTube app available for download.
Does the Amazon Fire TV Stick have to be plugged in to work?
Yes, it needs to be plugged into a power source because it requires power to operate the hardware and run the software interface.
Does the Amazon Fire TV Stick need WiFi?
Yes, this device requires a Wi-Fi connection to access and stream content to various streaming services, apps, and online content.
Can I take my Amazon Fire Stick to another house?
If there is an HDMI port on the TV and a reliable internet connection, you can take your Amazon Fire TV Stick to another home and utilize it there.
Can I use my Amazon Fire Stick at a friend's house?
Yes, you can use your Fire TV Stick at a friend's house if there is an available HDMI port on the TV and a good internet connection.
Final Thoughts
We arranged the FireStick beginner's guide mainly for those who do not have enough knowledge in this subject. So if you are a beginner Amazon Fire Tv Stick user then you probably gained enough knowledge from the above discussion.
Fire Stick is a very popular name among entertainment lovers as it allows you to stream entertainment content. But since Firestick comes in different models and each model has to be taken into consideration while choosing a stick.