How To Change Firestick Language [ Latest Update 2023]
Many people ask questions about changing the language of Firestick, even many do not know how to do it. Some users want to change the language intentionally while some devices change the language automatically. Users may get a bit frustrated if they don't know how to change firestick language.
There is no reason for you to despair about this, as there are ways to solve it. Firestick has users with different languages, so they search for the necessary way to select their preferred language. Through this article, you will know about all the issues related to changing the language of firestick. Hopefully, you don't mind any more complex questions.
Why is My Firestick in a Different Language?
Those who have firestick device language changed to another language must know why before solving this problem. It may be due to an internal problem which can be solved by restarting or resetting the device. As any device runs continuously, it gets tired and causes some changes in the device, causing various problems.
Language change is one of them. In this case, restart your device; maybe the problem will be solved. If it doesn't work, then reset the firestick. But note that resetting it may remove some data and apps. However, after completing the reset, turn on your device. There will probably be no more language switching issues.
How to Change Audio Language on Firestick?
If the Firestick's audio language is not to your liking, you can change it. Perhaps you are watching a movie or show in a language that you do not understand easily. Then you can change the audio language and subtitle of your device by following some very simple steps. In this case, follow the steps below: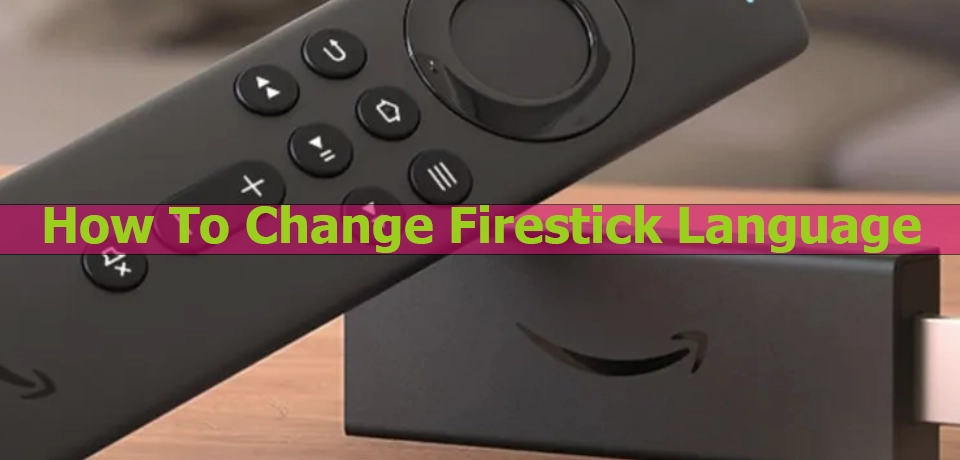 First, with the help of your remote, find out the list of movies from the firestick device where many movies will be shown.
Now click on a movie whose language you want to change.
Here you will see some information and options related to the movie, select Languages & more options.
You will see about 17 language options which are mostly used. Besides, you will see several language options for subtitles.
Then go back again and select the start over the button under Languages & more.
Now you will see the Subtitle and Audio & Languages options at the bottom left side of the screen.
From here select Audio & languages with remote.
After selecting it will show the current language, hit on the language name and all the languages will be displayed.
Select your desired language from the language list.
Now your language is changed, enjoy your desired movie in your preferred language.
See More: How to Change Firestick Location
How to Change Language on Firestick?
It is important to know the right steps to do any task easily. If you are a new user of firestick then you probably don't know about its language change. However, follow some steps below.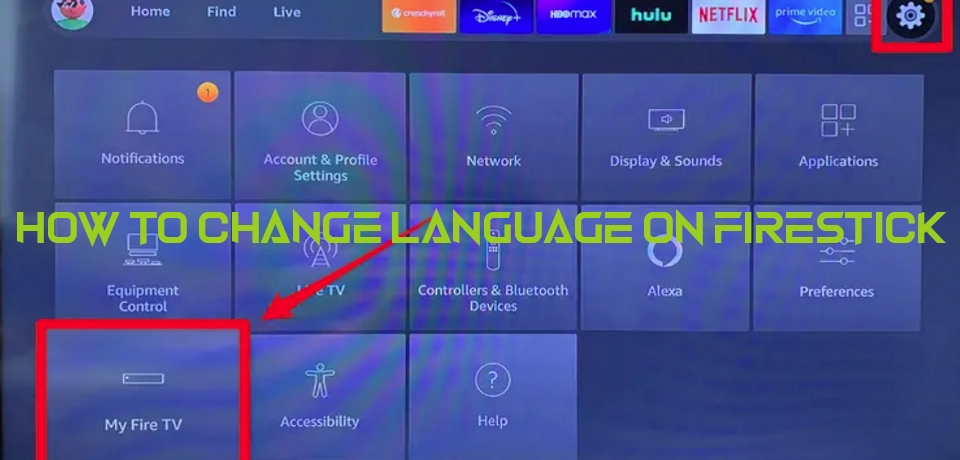 First, enter your firestick's home screen.
Notice the setting on the right side of the menu and select it with the remote.
Select the preferences option from the settings option. Notice there is a dots icon.
Now you will find a list of languages with several major languages.
Select your desired language and return to the home screen.
Notice if the language you just selected is displayed.
If it still doesn't change press the home button a few times it should probably work now.
How to Change Language in Amazon Fire Stick?
To change the language of Amazon firestick you must start from the home screen. You are probably familiar with the home screen menu, from here select the settings option. After going to settings you will see many options from which you have to select preferences. However, now select the language option.
There are several language options from which you can choose your preferred language. Once the language is changed, go back to the home screen and check if the language is changed.
How to Change Audio Language in Amazon Fire Stick?
When you want to change the audio language on fire tv, you must go through a prescribed and proper way. However. The way involves only a few steps, which are mentioned below. In this case, you have to use a firestick tv remote.
First, press and hold the home button on the remote for 5 seconds.
If the remote has a separate setting button, press it.
When the setting shows, you will see an option called sound; select it.
Here you will find several options to change them according to your convenience.
Check back to see if it has changed at all.
How to Change Language on Cinema App on Firestick?
The Cinema app is very important for movie lovers. But the ability to switch languages is a must for people who speak different languages. However, now you will know how to change the cinema app language on firestick.
Open any video and let it play.
Now go to menu option from the remote of firestick tv or you can also go to menu from app.
Note which language the subtitle is in.
Click on language and select your desired language from the displayed languages which will be displayed as subtitles.
Sometimes subtitles may be turned off, don't forget to turn it on.
Now check if your language has changed.
How to Change Language on Netflix Firestick?
Are you worried about changing the language on Netflix? There is no reason to worry. You can enjoy the content in your preferred language. It is a very popular streaming service although many people still don't know about the language switch. Below is the process for them.
First, go to Netflix's website.
If it is not signed in, sign in using the required information.
After entering your profile notice in the right corner where the profile icon shows.
Now select the account option from the drop-down menu.
After login to the account there is a language option at the bottom where there is language, click here.
Find and choose which language you want to choose.
Then notice above the account that your new set language is displayed.
How to Change Language on Pluto Tv Firestick?
Any streaming service platform usually has an English language set. If you don't want to watch English language content on pluto tv then this is probably bad news for you as the platform doesn't offer an option to change the language. If the content you are viewing is in your preferred language, then good luck to you.
However, it is not possible to change the content in the English language to any other language. You can expect this feature to be readable. But now you don't have to be disappointed at all because you can have the subtitle shown in the language of your choice.
How to Change Language on Hulu Firestick?
If you prefer to watch all programs with English language then Hulu is the perfect platform for you as most of the content on Hulu is in English. However, if some people are interested in watching programs in languages other than English, there is also an option. How to change the language of Hulu on Firestick is given below with the help of a few steps:
First, swipe the playback bar with the remote.
Now open the settings menu.
You will see some options for the subtitle of the program you are currently watching.
If it is turned off, turn it on and select the language.
Once it is changed it will persist in the future. It won't change until you change it again.
Now enjoy the program with the desired language.
How to Change Language on Disney Plus Firestick?
Now you will know how to change Disney plus language on firestick. You don't have to worry about doing this because there is a very simple way to do it. You just need to follow the steps below. You are indeed in luck because changing Disney plus language on firestick is very easy.
First, select the title you want to watch and select the top right box using the sharp buttons on the remote.
Now click on the audio or subtitle button.
Several languages will be displayed here from which you can choose one according to your preference.
Anyway, the process is done, now check it out.
How to Change Language on Firestick Movie?
While watching movies on Firestick it may be necessary to change the language because sometimes it changes itself and is displayed with a different language. To change this access Settings from the top menu. Go to preferences from settings where you can see language options. Select your preferred language from here. Once selected, play the movie again from the beginning and check if it changes to the desired language.
Frequently Asked Questions
Why is my firestick in german?
There are several reasons behind Firestick language changes. It's possible that your device may have some internal problem that can cause it to automatically change its language when it's running continuously for a long time.
Why is my firestick in Spanish?
If someone else is already using your device, they may have changed it to Spanish, but sometimes it changes the language automatically. Also sometimes it can be due to updates. But don't worry you can change it easily.
How to change language from Spanish to English on Netflix?
In this case first log into your Netflix account and go to the account by clicking on the profile icon. There you will see the language option. Now if your language is in Spanish then change it and select English.
Why is My Firestick in Japanese?
If your firestick device displays the Japanese language then go to the Manage your Content and Devices option of your device. Select the country from which you are using the device from the country setting option and update.
Final Thoughts
Hopefully, all your doubts about changing the firestick language have been cleared now that you know how to change firestick language. If you are a new user then probably the method is unknown to you. In that case, any content with a different language will not be enjoyable. So it is important for you to know the right process.
All the issues related to changing the language of Firestick are discussed in separate section above. You probably have no more questions now. It doesn't matter if you still have questions. Leave a comment that you have doubts about.
Source: https://www.amazon.com/gp/help/customer/display.html?nodeId=GBTSRXQAJLMZQZ83