Thunder TV on Firestick-How to Get, Install and Watch
Over the years, there has been a rise in IPTVs in replacement of cable TVs. And this has also led to the development of different apps for the streaming of TV channels on IPTV platforms.
One of the popular IPTV platforms I am going to introduce to you in this post is Thunder IPTV. Thunder TV on Firestick works perfectly when the app is properly installed. Read on to know more about the Thunder TV app for Firestick.
What is Thunder TV?
Thunder TV is an IPTV streaming service provider with many channels for streaming. On Thunder TV, you will get access to more than 13,000 channels consisting of channels from the United States and the United Kingdom. Thunder TV download for Firestick is easy through sideloading.
How to get Thunder TV on Firestick?
You cannot get the Thunder TV app on the Amazon Store. The only way to get it is through sideloading the Thunder TV APK. In the next section, I will give you a step-by-step guide on how to install Thunder TV on FireStick. Thunder TV for Firestick
works well if the installation is done properly.
How to download & install Thunder TV on Firestick?
Follow the guide below to successfully do a Thunder TV apk download Thunder on your Firestick device.
Step 1: Go to the Settings of your Firestick
Step 2: Now, locate My Fire TV and choose it
Step 3: Click on Developer Options
Step 4: Make sure that ADB Debugging and Apps from Unknown Sources are turned on.
Step 5: Click on Turn On once you see the popup
Step 6: Select Home and choose to Find next
Step 7: Now, search for the Downloader app or you say Downloader if you have enabled an Alexia Voice device.
Step 8: Choose the Downloader app icon
Step 9: Click on Download for the app to start downloading
Step 10: Now, tap on Open
Step 11: Click on the Allow button
Step 12: Now, open the Downloader app
Step 13: In the URL box, you have to type in this URL reviewvpn.com/thtv
Step 14: You will see that Thunder TV IPTV will start to download to your Firestick device
Step 15: Click the Install button once the downloading is completed
Step 16: You can now launch the Thunder TV IPTV app by clicking on Open.
Step 17: Wait a couple of minutes for the content to load
Step 18: You have successfully done the Thunder TV IPTV download on your Firestick device. Log in with the credentials you got when you were signing up and start streaming different video content of your choice.
See More:
How to use Thunder TV on Firestick?
To start using Thunder TV app for Firestick, you will have to log in with your credential after successfully sideloading the Thunder TV app. After completing the installation of the Thunder TV app Firestick, you can start streaming your favourite channels.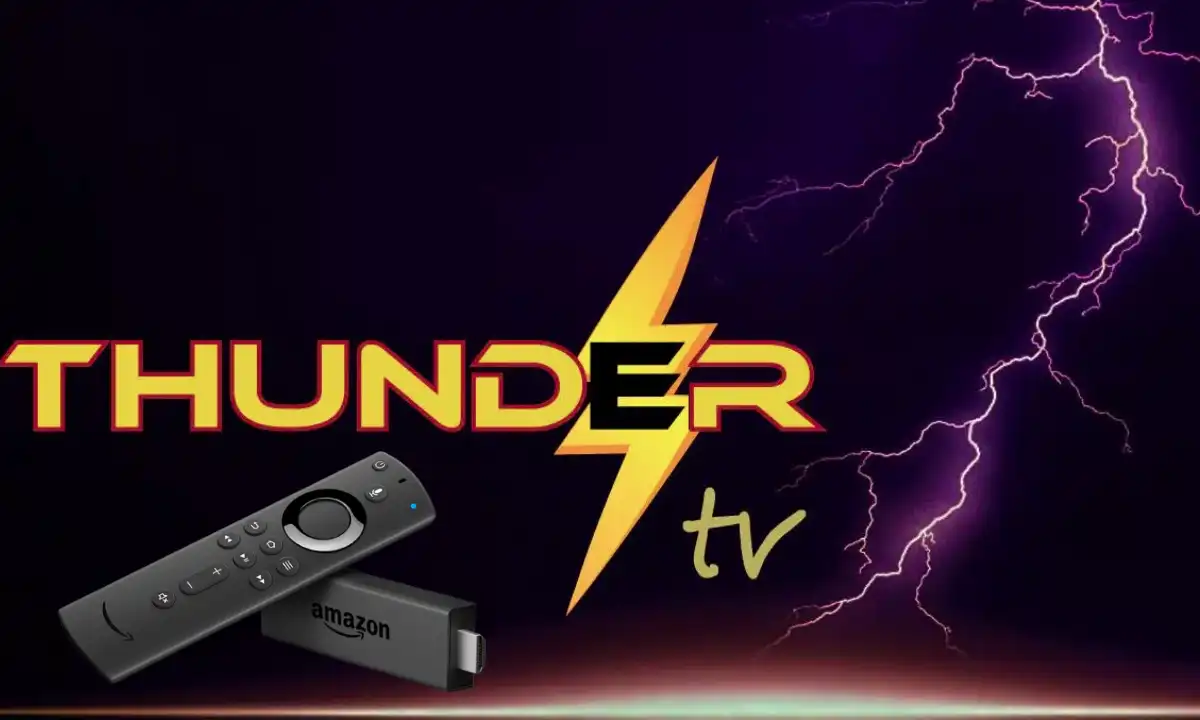 How to add Thunder TV to Firestick  
The only way to add Thunder TV to Firestick is by sideloading the Thunder TV APK. Firstly, you have to install the Downloader app, insert the APK URL and click Go to start the process of sideloading Thunder TV app.
How to Watch Thunder TV on Firestick? 
Thunder TV apk download for Firestick is easy if you sideload the APK on your Firestick device the right way. Once you have done that, log in with your credentials to start streaming videos.
How to subscribe to Thunder TV
To subscribe to Thunder TV, follow the below steps:
Step 1: Go to their website at https://www.thunderiptv.net/
Step 2: Scroll and see a list of subscription plans.
Step 3: Choose the plan that suits your pocket by clicking on "Choose Plan"
Step 4: Enter your email address and card information before you click on "Pay"
Step 5: Make payment and start streaming with ease.
Why choose Thunder TV?
There are many good reasons to choose Thunder TV. Below are some of them:
Reliable and powerful servers
Over 22,000 channels
Channels are in HD and FHD
It is compatible with different devices
Live support is available 24/7
Why you need VPN to stream IPTV channels
Using a VPN is not compulsory when streaming IPTV channels. But it is recommended that you use one. A VPN puts your mind at rest knowing that you are safe while streaming.
With a VPN, your IP address is concealed since there are copyright issues with some channels that are available on some streaming apps, including Thunder TV. This means you can browse anonymously. It also helps to boost your internet speed when it is slow. Below are some of the VPNs you can choose from:
Surfshark VPN
Nord VPN
Express VPN
Atlas VPN
Private VPN
IPVanish
Frequently Asked Questions
Is there Thunder TV trial?
Yes, you can do 24 hours trial at just $1.5
On what devices can I install Thunder TV?
Thunder TV can be installed on Firestick, Android, and Fire TV devices.
Can I watch Thunder TV for free?
Thunder TV is not free.
Does Thunder TV have HD channels?
All channels are available in HD.
Final Thoughts
There is no dull moment with Thunder IPTV. Thunder TV on Firestick gives you all you need when it comes to entertainment, sports, movies, series, and more. With more than 13,000 channels from different categories, you are bound to enjoy your viewing time. The fact that it is easy to install makes it even better. The cost is also affordable at under $14.
Now is the time to switch to Firestick Thunder TV if you can no longer afford the cost of cable TV subscriptions. There is no lag time since Thunder TV Firestick makes use of the latest technology in the IPTV industry.